Turdsley Fuzzingsburgue
is an obese babyish turtle who goes to
PS-22
. He is very dumb and retarded, though he has good intentions unlike most of the rest of the
Judge Mia
gang. He considers
Buck
to be his best friend, but Buck usually just takes advantage or makes fun of Turdsley.
Personality
Edit
Turdsley is quite incompetent, though he sometimes makes wiser decisions than Buck and the rest of the gang. He tries to fit in, but nobody really likes him, even his dad Big Bobby. Turdsley has a softer and more emotional side that most of the rest of the cast. He has been know to squeal happily and sob hilariously.
Turdsley speaks like an toddler. He messes up big words easily. Also, he replaces all R's and L's in words with W's.
Relationships
Edit
Turdsley's family is very complicated. He is Fransisco's former adopted son, and Big Bobby and Chestnut's biological son. Mia is his former adopted step-mother.
Turdsley's thinks his best friend is Buck, but the relationship only goes one way. He's kind of his only friend, because his relationship with the other preschoolers is very awkward.
Turdsley and Fluffy (Judge Maya's assistant/henchman) fell in love in Turd Love, and told their friends they were in love. Mia explained to them they could never be together, because they are from different sides of the Mia-Maya feud. In the epilogue of Judge Mia Forever, Turdsley and Fluffy got married, but were lost in the mountains searching for the meaning of food.
Physical appearance
Edit
Turdsley dwarfs Judge Mia, and everyone else on the show, even the adults. He is a turtle without a shell because his DNA is mutated.
The show never acknowledged Turdsley's shellessness until the Season 10 episode No Shell for Turd. While watching a turtle documentary, he realized that he doesn't have a shell. His dad Big Bobby mentioned the reason that Turdsley doesn't have a shell is because he's a mutant. Turdsley also had shell surgery, but it was maliciously destroyed by Buck and Butt.
Possible death
Edit
It was revealed in the epilogue that Turdsley and his new bride, Fluffy Fuzzingsburgue, went searching for the "Meaning of Food" in the mountains shortly after their wedding and were never seen again. This event happened between the years of 1326 and 1337. Their exact fate is unknown.
"Ya know, Buck, maybe pwanting twees isn't all what it's cwacked up to be."
"Biwdena! You wowk hewe?"
As of Season 4, he goes to PS-22 .
Turdsley wants to be a fire chief when he grows up.[3]
Appearances
Edit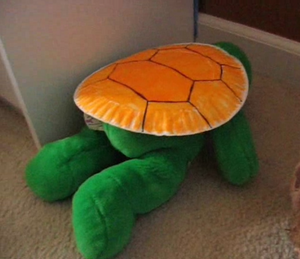 Footnotes
Edit
↑

He was 4 years of age in 1308

↑

Both of his biological parents are bears

↑

Turdsley said that in the "Win-A-Day-With-A-Judge-Mia-Character Contest"
PS-22

Buildings

Teachers

Students