The Snortleson Brothers vs. Smokey
General information
Season
# in season

2

Commercial(s)
Length

6 mins, 15 secs

Production information
Prod. code

102

Airyear

1308

Episode guide
Prev.
Next
Other links

Image gallery • Transcript
The Snortleson Brothers vs. Smokey
is the 2nd episode of the
1st season
of
Judge Mia
, and the 2nd episode overall. The events in this episode take place in
1308
.
Buck, Stinky, and Stench Snortleson sue Smokey, becuase their sister dies while filming Smokey's TV show.
The Snortleson brothers are suing the director of Snorty & the Gang because their deceased sister, Snorty, died on set under his supervision. Smokey says it's not his fault. The Snortleson brothers call in their mother, Queen Kong, who destorys the courthouse and attacks Judge Mia. Mia then sends the Snortlesons to jail, and Smokey is so depressed that he jumps off of a bridge.
Characters
Edit
Major Roles
Minor Roles
Commercial Roles
Unfinished
Buck's Lil' World
Edit
Buck's Lil' World did not air with this episode.
"SHUT UP!!!" -Judge Mia
"Bow down; to the awesome might of...my mom, Queen Kong." -Buck
"It's not my fault." -Smokey
"[Sigh] I'm responsible for someone going to jail. I may as well jump off a bridge." -Smokey
"I'll give you a reason to be embarassed!" -Queen Kong
Trivia/Goofs
Edit
Smokey dies at the end of the episode.
The episode is sometimes referred to as only The Snortlesons vs. Smokey. This is a common confusion.
This is the first episode that Buck appears as a main character.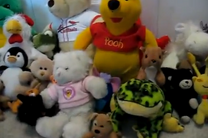 Crowd Members: Turdsley Fuzzingsburgue, Nugget, "Hoppy", Ken, "Little Honey", Vanilla Bean, Pooh, Sweety, Cudz, Nut Nuttingham, CamCam, Brog, Flipper Pucenose, "Biscuits"