| | |
| --- | --- |
| | This article does not meet the quality laws of Judge Mia Wiki. |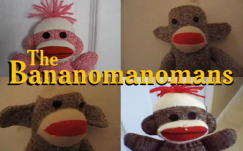 The Bananomanomans was a spinoff of Judge Mia, focusing on Matilda, Murphy, Marley, and Maggie's family.
After a failed pilot episode, the series has been on hiatus since 1311. The show has been questioned for cancellation many times, but JMN insisted on keeping the show alive because they "never know when they'll want to pick it back up again". Then, it was officially cancelled in
1334
. An identical show,
The Bananomanomans: Again
, was announced the same day.
List of Episodes
Edit
S#
E#
Titlecard
Name
Description
1
1

The New Doo

Matilda can't find a salon that does "bald cuts," meanwhile, Murphy is invited to his boss's fancy party. Also, Maggie and Marley are having bully troubles at school.

1
2
none
Bong!

UNAIRED
Marley gets uncovers a plan that reveals a murder, Maggie accidentally brakes Reynold's urn, and Matilda is really mad at her, and Murphy's office is under construction, so her has to write his apple report in the shabby fast food restaurant next door.