Nut Nuttingham
Nut Nuttingham
is
Judge Mia
's manager/assistant/boss. Their relationship is complicated.
Personality
Edit
Having no family but Butt, Nut considers business number one in his life. His and Mia's philosophies frequently clash at work. He expects diligence and perfection of everyone he meets, mostly Mia. At home, Nut is very old-timey and polite. He drinks tea, and rumor has it he knits.
Relationships
Edit
Judge Mia
Edit
Nut considers himself to be above Mia as her boss; Mia merely thinks of him as a fan with exclusive access, who also is her helper. It's complicated. When he first heard about Mia's show, he became such a huge fan that he was just dying to be a part of it. He actually fired Mia at the end of Judge Mia's Thanksgiving, but they apparently worked it out.
Judge Maya
Edit
"Oh, Judge Maya! I had no idea you were so civilized!"
—Nut, when Maya was tricking him in Judge Maya (episode)
Against Mia's will, Nut actually thought that Judge Maya is quite civilized and polite at one time, but then realizing he'd been tricked he despised Maya once again.
Butt is Nut's grandson, and is not a squirrel. Probally because Nut's son/daughter in-law was a dinosaur, and married Nut's son/daughter who was a squirrel. That would explain Butt and Nutella being siblings but different species. Alternativley, Nut married a dinosaur and their son/daughter, who was a dinosaur, married another squirrel and they had one kid who was a squirrel and another who was a dinosaur. Nut still  thinks Butt is a well-behaved little preschooler, and has no idea why he got expelled from school.
Nut and Nutella haven't had much interaction sense her debut. Nut introduced her, but so far, that is it.
Appearance
Edit
Despite being her "boss," Nut is significantly smaller than Mia. Being a squirrel, he has short brown and white fur all over his body, he also has whiskers and a big puffy tail.
"We have a busy couple days ahead of us."
"You're fired."
Nut may star in an upcoming episode called Nut: the Amazing Beginning.
Nut actually fired Mia, but apparently they worked it out.
Nut is usually consider smart, but when it comes to his grandson, Butt , Nut is completely unaware that his grandson is a monster.
Because Nut has grandchildren, he must have children. But this has never been specified.
Footnotes
Edit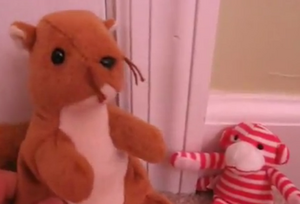 Nuttingham Family

Adults

Nut

• Nut's Unnamed Son • Nut's Unnamed Son's Wife

Kids