Nigel vs. Buck
General information
Season
# in season

1

Commercial(s)
Production information
Prod. code

201

Airyear

1309

Episode guide
Prev.
Next
Other links

Image gallery • Transcript
Nigel vs. Buck
is the 1st episode of the
2nd season
of
Judge Mia
, and the 6th episode overall. The events in this episode take place in
1309
.
Nigel sues Buck for slipping on one of his bannanas.
Nigel opens the case by introducing his lawyer, Brownfeather. He then tells the tale of how he slipped on Buck's banana peel. Brownfeather then insults and attacks Mia. After the SmartSafe commercial, Brownfeather is lifted into the sky, being "summoned" by the Great Spirit. Mia then arrests Nigel. Nigel and Buck are then say their opinions on Mia's decision, and he episode ends.
Characters
Edit
Major Roles
Minor Roles
Commercial Roles
Buck's Lil' World
Edit
Buck's Lil' World did not air with this episode.
"Though I regret it, the Great Spirit summons me to do just this." -Brownfeather
"It's all poop under the bridge now." -Buck
"You can't do this, I'm the prince!" -Nigel
Trivia/Goofs
Edit
This is the second episode in which Buck is a main character.
This is Brownfeather's first appearance.
Even though Brownfeather dies at the end of the episode, she makes a second appearance in Brownfeather vs. the Logger Union.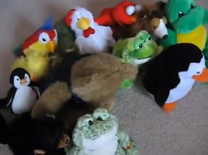 Crowd Members: Perry, Cornflake, Ken, Ribbitz, Nugget, Elmer, Majesty, Turdsley, Croakella, Private, Jordan, Smokey, Hipper