Grouch vs. Private
General information
Season
# in season

3

Commercial(s)
Length

4 mins, 47 secs

Production information
Prod. code

103

Airyear

1308

Episode guide
Prev.
Next
Other links

Image gallery • Transcript
Grouch vs. Private
is the 3rd episode of the
1st season
of
Judge Mia
, and the 3rd episode overall. The events in this episode take place in
1308
.
Divored couple, Grouch and Private divvy out their children.
Divorced couple Grouch and Private come to Judge Mia to decide which one gets the kids. When they are deciding about Cornflake, they grab him, fight over him, then Grouch proceeds to rip him in half. Mia concludes that Private gets to keep the remainders of Cornflake. Grouch then attacks her, Mia calls in security, and the episode ends.
Characters
Edit
Major Roles
Minor Roles
Commercial Roles
Unfinished
Buck's Lil' World
Edit
Buck's Lil' World did not air with this episode.
"My, you look like a big happy family!" -Judge Mia
"I WANT HIM!" -Grouch
"It was a dark and stormy night..." -Private
"Well if I can't have him then I don't want anyone else to have him either." -Grouch
Trivia/Goofs
Edit
The beep of the "Please Stand By" card in this episode is different from the others.
One goof in this episode is that Mia asked Grouch "Why did you rip Cornflake apart" before Grouch had ripped him apart. This is a goof.
This is the first episode that is less than six minutes.
This is the shortest episode in the show.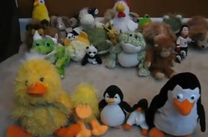 Crowd Members: Perry, Unnamed Dog, Majesty, Croakella, Cudz, Dawnald Finn, Xhing Xhing, Guacamolito, Brog, Nugget, Hipper, Unnamed Frog (Number 2), Ribbitz, Almond, Fransisco, Hocco